Health benefits
Health benefits of plants in the office/bedroom
Indoor plants can be a great addition to any room – be it an office space or a bedroom. They look lovely, give you something to take care of and add character to a space, but did you know they're actually good for you too?
It's true - house plants can actually provide several health benefits that will have positive effects for office workers or anyone settling down for a night's sleep. Take a look at the top reasons plants are the perfect addition to any indoor space.
Plants clean the air
If we dig deep back to school-time memories, we can all remember that while humans and animals need oxygen to survive, plants breathe in carbon dioxide – a gas that we don't need. In fact, it's the gas that we exhale. The good news is that plants combine CO2 with water and light to produce their own energy (photosynthesis, remember?). This means that they reduce CO2 levels and, in simple terms, keep the air you breathe clean.
It's actually backed by science - plants in the office clean the air by up to 25%. Not only that, but plants are brilliant at removing harmful chemicals such as benzene, trichloroethylene, and formaldehyde from the air we breathe. Air in a room full of plants is much cleaner than without them.
House plants like Ben, the weeping fig, and Effy, the English Ivy, are packed full of magical air-purifying powers. They'd be a perfect addition to any office, leaving everyone breathing a little more easily. Whereas larger standing palms, like Big Ken, our Kentia Palm, are well-documented to be one of the most effective pollutant-filterers.
Office plants reduce stress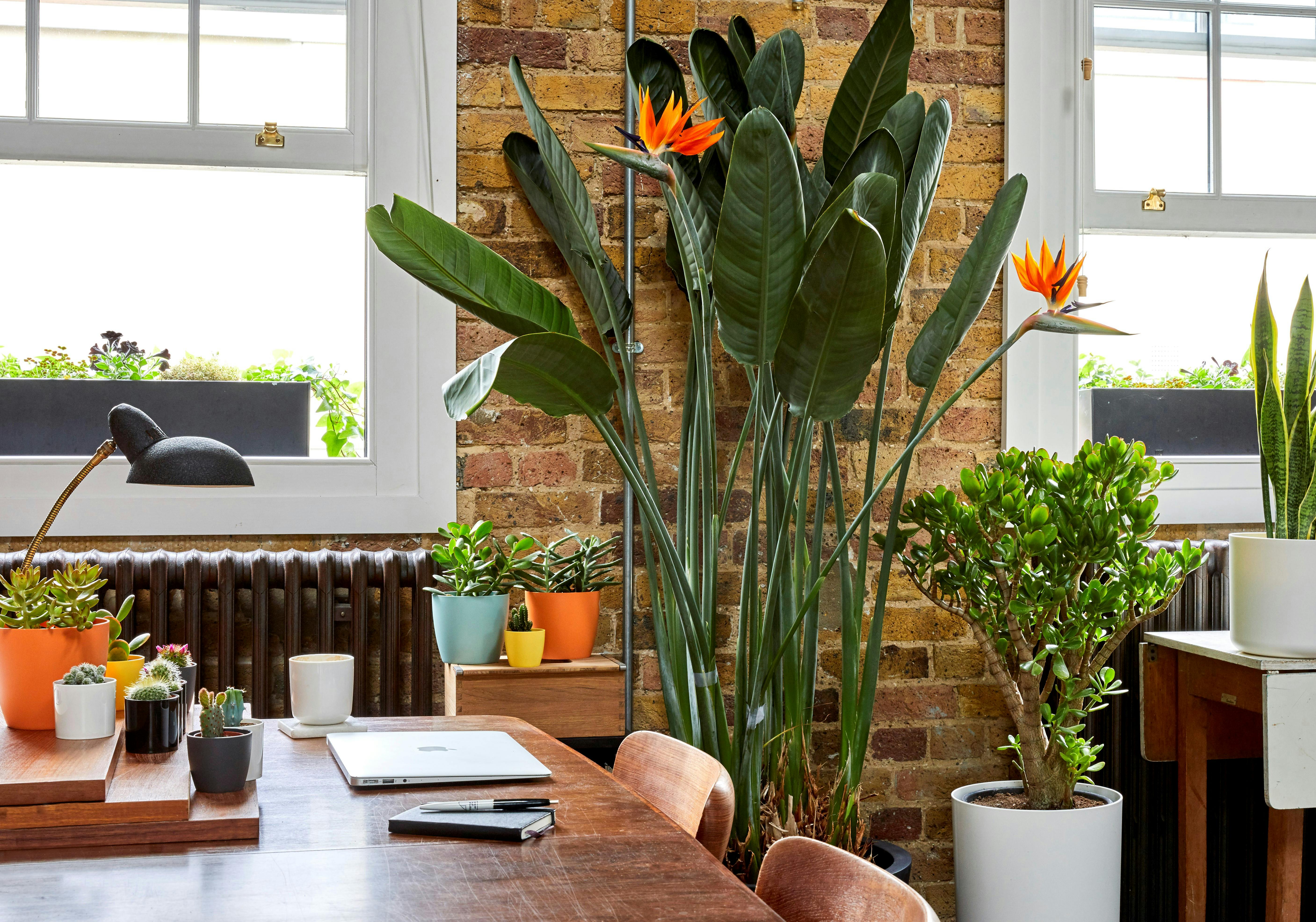 You may not realise it, but when you're around plants there's a good chance you're a lot calmer. Don't just take it from us - according to a 2010 study by the new University of Technology, Sydney, plants introduced into office settings had a significant effect on the stress levels of people in the workspace.
This is probably because as humans, we have a desire to be connected with the natural world. It's an innate psychological tendency called 'biophilia' and means that we get a kind of intrinsic anxiety when we're not around nature. Offices can be a somewhat sterile environment, so plants give a natural vibe that reduces stress and helps us feel closer to nature!
The fact that most plants are green is also calming. Colour psychology suggests that the colour green has a calming effect on people, which might be why when plants are placed indoors – especially in the workplace – levels of tension, anxiety, depression or hostility can decrease by as much as 58%.  
Although we love green, there's nothing like bright colours to inject some energy into a space. If a study, office or bedroom needs a little brightening up, Fleur the Anthurium (the 'trail flower' or 'flamingo flower') is blessed with bright red flowers for 300 days a year. Having a permanent bouquet like Fleur in your office or bedroom will drastically improve your mood, as well as your quality of indoor air.
For an inspiring example of biophilic design, take a look at the Wardian in London.
Plants can reduce sickness rates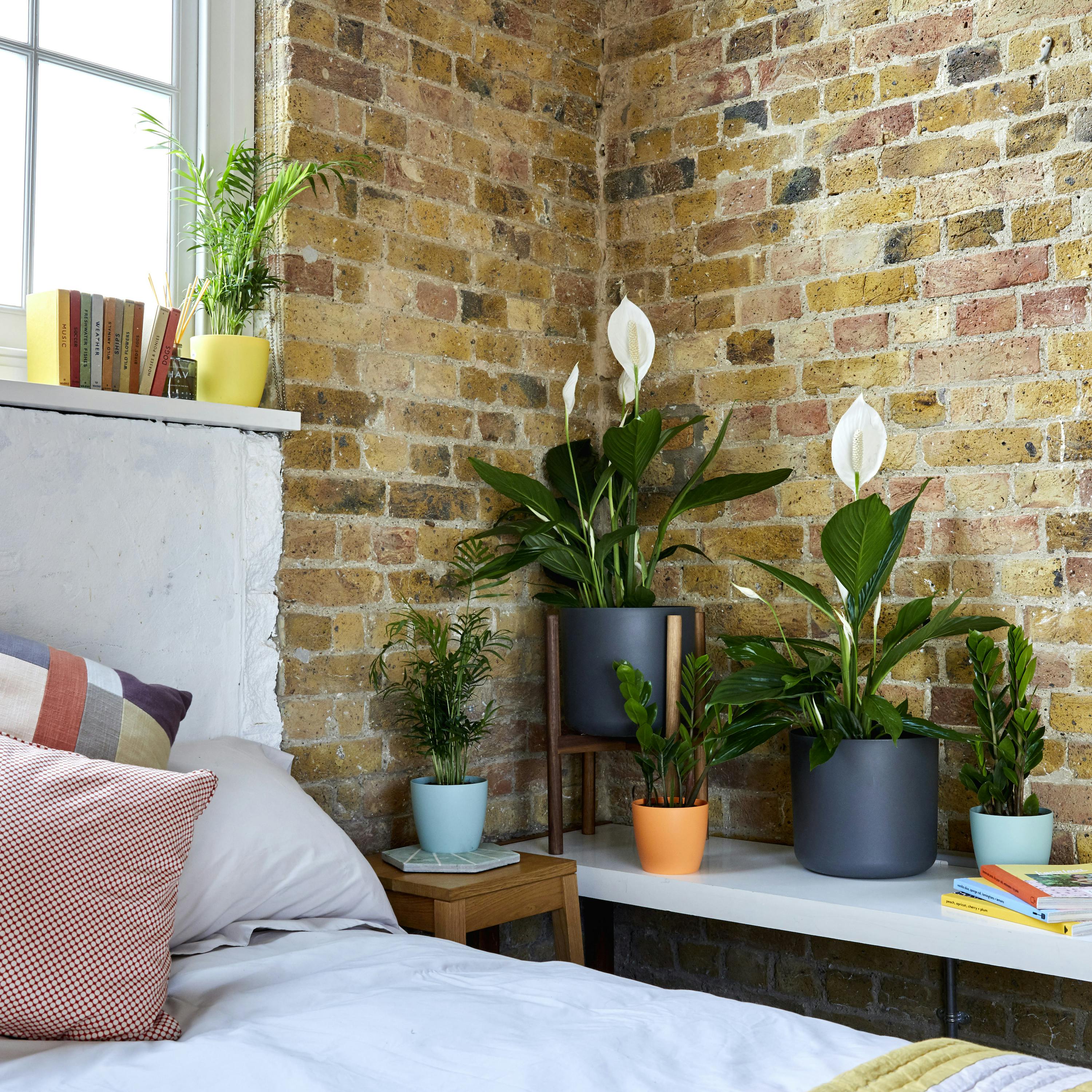 Because plants are linked to a more positive environment, both mental and physical, places of work that incorporate greenery boast a 15% higher well being score than those that did not, according a 2015 report.
Humans have a positive psychological reaction to natural environments. As such, the more plants you can find space for in your place of work and leisure, the higher the overall feeling of wellbeing.
House plants help reduce noise levels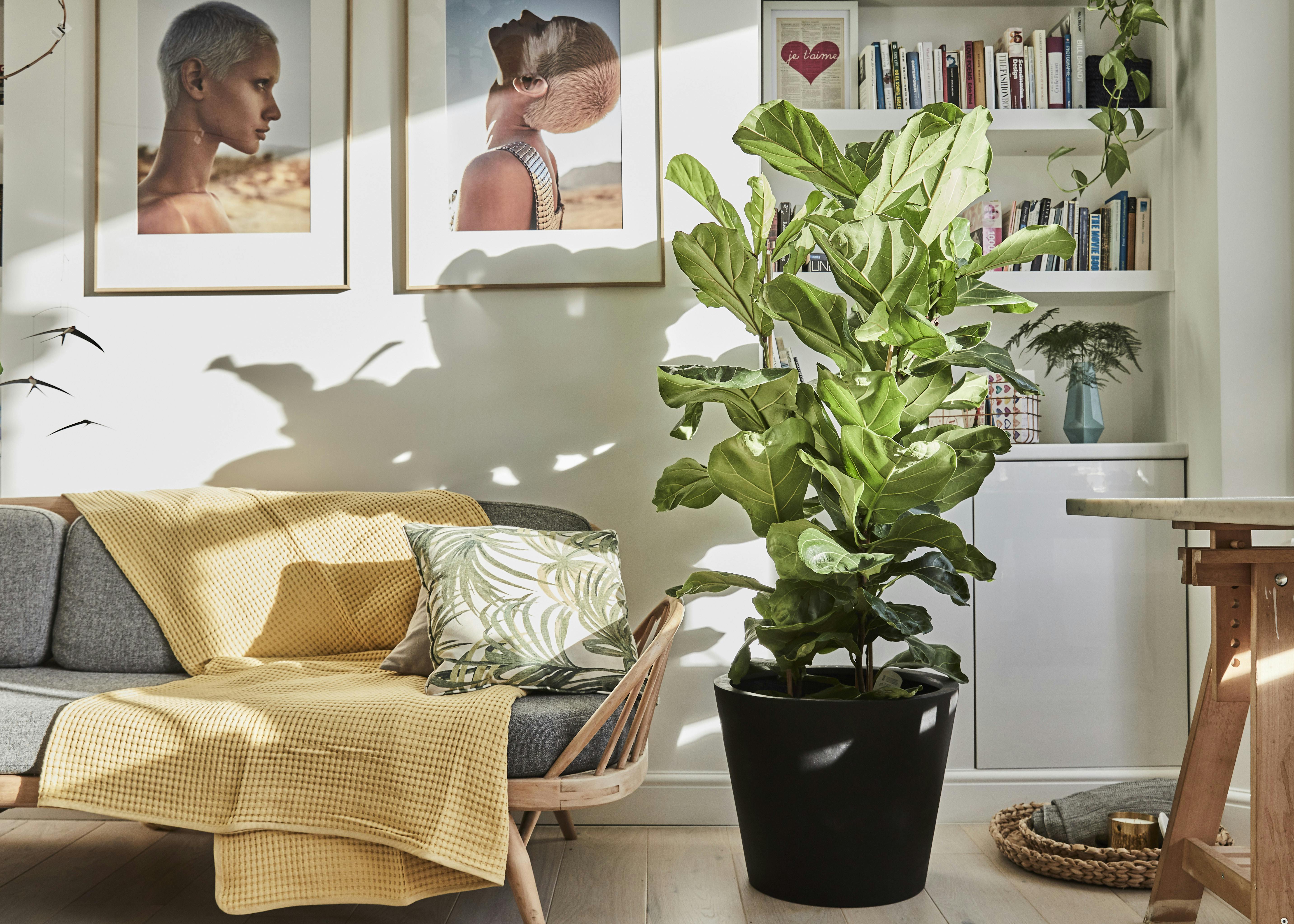 Finally, plants can actually absorb background noise – such as office chatter or road sounds. By placing large plant pots, like the Fidel Tree, around a room, unwanted levels of noise can be reduced.
Plants will even help you get to sleep or concentrate better on that tricky deadline. Who'd have thought it?
Find our full range of indoor plants right here.
Alternatively, read more about the best air-purifying plants that you can find on Patch.